Casting Process
Sodium Silicate/Water Glass and Silica Sol
Casting Material
Arbon Steel: 1020, 1025;
Alloy Steel : 4135, 4143 and 8620;
Stainless Steel: 303, 304, 304L, 316, 316L, 410, 431 and 318;
Heat Resistant Steel: GX40CrNiSi2512, GX15CrNiSi2520, GX40CrNiSi2520 and GX40CrNiSi3525.
Casting Tolerance Grade
Sodium Silicate/Water Glass: CT7-9
Silica Sol: CT4-6
Subsequent machining operations after casting.
Steel Spider Clamp for Glass Curtain Wall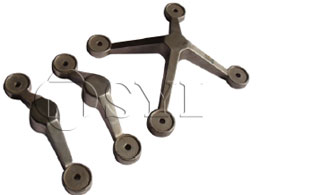 Made in Stainless Steel or high-quality Carbon Steel, SYI Routels/Glass Fittings are used for supporting glass curtain wall system.
Different accessories like spider clamp routel, bolts, spiders, glass clamps and others are available. Major materials include SS 304 and SS 316.
Surfaces: mirror polishing, satin and hairline finish
OEM / ODM request is very welcome!

Most of the standard sizes are available.
Ask SYI Sales Representatives for more details at info@syifoundry.com