Aluminum Extrusion is the preferred method to manufacture continuous complex profile shapes that are used in many industries including construction, aeronautics and automotive. In this process, a billet of aluminum is pushed by a ram through a die land that is the desired product shape. The extrusion process is considered to be the most effective way to fabricate parts that need to have a uniform cross-sectional area.

The high pressure and high temperatures involved in this process induce thermo-mechanical stresses in the solid die as well as small deformations. These stresses and deformations often adversely affect the specific dimensions required of the extruded profile.

SYI products provide advanced physics such as shear thinning and temperature dependence of the aluminum viscosity, fluid structure interaction between the solid die and the flowing metal and the deformation of the profile.
Our in-house capabilities permit us to produce high quality, tight tolerance aluminum extrusions for our customers. Our capabilities include extruding, CNC machining, assembly, anodizing, paint/powdercoat, fabrication, bending, precision cutting and custom packaging. We are capable of meeting some of the tightest tolerances in the industry while maintaining the quality which meets your requirements.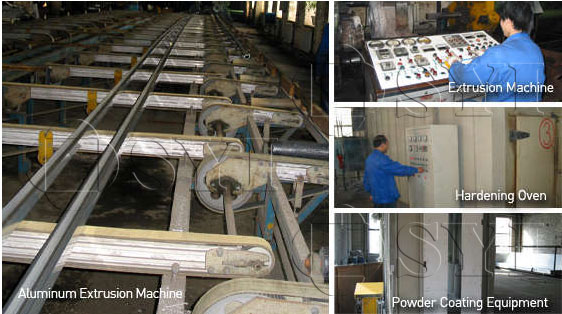 Our machining centers are used to provide additional services to the customer. Our machine shop is run by capable machinists and operators who program the CNC machines to operate the required specifications to the part. We can perform a wide variety of operations: turning, facing, grooving, drilling, boring, tapping chamfering, countersinking, profiling, knurling, reaming, tapering, threading, counter bores and radius.
SYI Quality Assurance Program is designed to meet a wide variety of industries, including commercial, military, automotive, industrial and farming. Our primary goal is to meet or exceed customer requirements!
Most of the standard sizes are available.
Ask SYI Sales Representatives for more details at info@syifoundry.com