Die casting is a manufacturing process in which molten metal is injected, under pressure, into a hardened steel die or also called mould. Once the tooling is paid for, die casting is a very inexpensive aluminum part manufacturing process.
Compared with sand casting, die castings require much less machining, can be made with thinner walls, can have all or nearly all holes cored to size, can be held within much closer dimensional limits, and are produced more rapidly in dies which make thousands of die castings without replacement.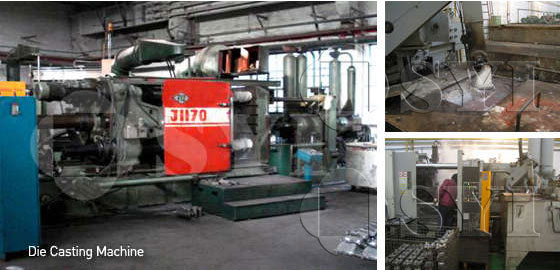 Die cast parts are important components of products ranging from automobiles to toys. Parts can be as simple as a sink faucet or as complex as a connector housing.

The Advantages of Die Casting:
* Efficient, economical process
* High-speed production
* Dimensional accuracy and stability
* Strength and weight
* Multiple finishing techniques
* Simplified Assembly
Our machining centers are used to provide additional services to the customer. Our machine shop is run by capable machinists and operators who program the CNC machines to operate the required specifications to the part. We can perform a wide variety of operations: turning, facing, grooving, drilling, boring, tapping chamfering, countersinking, profiling, knurling, reaming, tapering, threading, counter bores and radius.

Powder Coating is also available!
SYI Quality Assurance Program is designed to meet a wide variety of industries, including commercial, military, automotive, industrial and farming. Our primary goal is to meet or exceed customer requirements!
Most of the standard sizes are available.
Ask SYI Sales Representatives for more details at info@syifoundry.com